– Burning Man: Utopian Community
Burning Man is the largest outdoor arts festival in North America. There are 70 thousands participants this year. This isn't your usual festival. It's a city wherein almost everything that happens is created entirely by its citizens, who are active participants in the experience.
The 29th annual Burning Man 2015 festival kicks off this week in Nevada's Black Rock Desert. Among those paying close attention to the festivities will be the FBI's Special Events Management unit, who have kept files on "burners" since at least 2010.
– Once a year, tens of thousands of people gather in Nevada's Black Rock desert, also known as 'the playa' to create Black Rock City. They leave one week later, leaving no trace whatsoever.
– Festival goers gather in front of the Totem of Confessions
Burning man and other similar art and music festivals generally have very peaceful and safe endings.  The most common dangers with any of these events is the fact that police like to target the people who attend them.
In recent years as the drug war police state has escalated, they have become more aggressive with these events, setting up illegal checkpoints, illegally entering onto private property without permission and senselessly using violence or threats of violence against nonviolent people.
– One of the most peaceful and long running festivals in the country is under attack by police, with early arrivals experiencing a show of force like they have never seen before.
Aaron Muzslaski, a Burning Man regular made the following post at one of the previous gatherings:
The pigs are here. And uncommonly badge heavy.  Deeply upsetting, outrageous stuff. One DPW member was issued a $275 ticket for urinating on the playa, and threatened with being forced to register as a convicted sex offender. (a note for people not familiar with Burning Man, the "Playa" is what Burning Man attendees or "Burners" call the land that this event is held on.) I suspect this is fallout from the lawsuit BM.ORG won against the BLM earlier gatherings. Whatever the cause, know this: Law enforcement is going to be VERY AGGRESSIVE at Burning Man. Keep your shit as right as you do back in the world. Don't give them any excuses. Be extremely cautious, and MAKE SURE TO TELL YOUR FRIENDS. Things are changing.  IF YOU DO GET STOPPED: Make sure to file an incident report with Burning Man. LEARN YOUR RIGHTS.
Be Smart. Don't Run Afoul of Law Enforcement in BRC.
We don't want to see participants get cited or arrested by law enforcement as they enter Black Rock City (BRC), nor do you want it to happen to you, right? Right.
Also, be prepared to be pulled over for any infraction that draws attention, and tighten up your ship before you get here. evidence on suspects. Wiretaps, drones, infrared vision that can see through walls, undercover stings, hidden cameras, sniffer dogs. So what techniques could be so secret that they have to be classified?
– In 2013 a whistleblower revealed that this art car was used by undercover cops at Burning Man.
Meanwhile, even children's cartoon shows like The Simpsons depict drug exploration at Burning Man, while political figures like Grover Norquist and celebrity commentators like John Oliver and Jon Stewart make jokes about it to their mainstream audiences. This seems to be a double standard. "Oh we're trying to keep drugs out of Burning Man"…really? You sure the whole thing wasn't actually created specifically for the LSD/magic mushroom/ DMT crowd? Anyway, where did that stuff originate from in the first place?
It seems like FOIA requests are about the only way we can get information out of the new, improved, "clean well-lighted suite of rooms" of transparency that is Burning Man 2.0. Things that used to be released publicly every year like crime statistics, are now kept quiet. Good luck trying to get them, either from Burning Man, Pershing County Sheriff's Office, or BLM officials.
– Light is reflected from the Temple of Promise
Here's a previous FOIA request that shows that the FBI are also active at Burning Man, running intelligence operations. It also contains many redaction's and page deletions. One thing that is mentioned is a company that who were contracted to provide a security threat assessment in 2010 – wonder if there was any specific concerns that led to that? Perhaps ISIS will have an art car this year – hopefully one without too many flamethrowers.
In response to a 2012 Freedom of Information Act request by Inkoo Kang, the FBI released a 16-page file regarding the 2010 festival – which it erroneously identifies as the 14th, rather than 24th, iteration.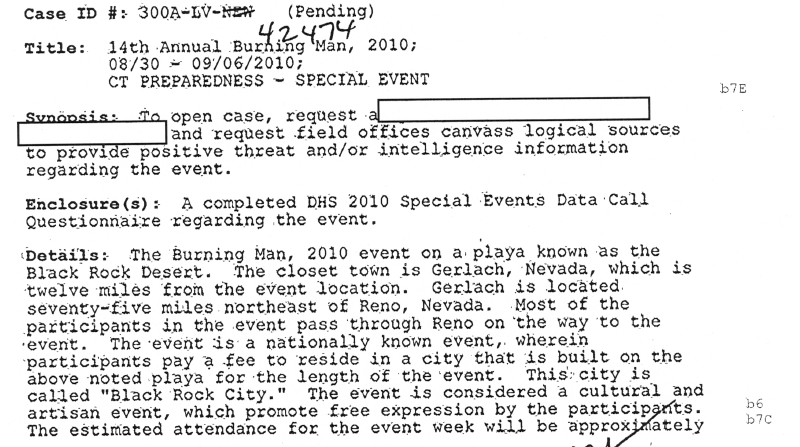 The file repeatedly states that Burning Man is considered "a cultural and artisan event, which promotes free expression by the participants," and notes that the biggest safety concerns are crowd control and illegal drug use.


As is often the case, the most interesting parts of the file are the most heavily redacted.
First is this note early on that due to mysterious "past events," the festival would be used as a sort of "test case" scenario …

Which may or may not be related to this tantalizingly redacted piece of equipment or personnel which the Burning Man Special Events Management Unit (SEMU) is going to be providing.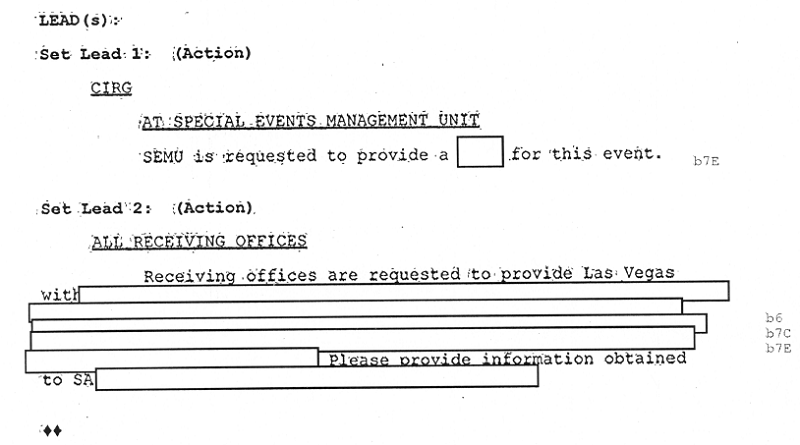 Who or what was provided is a matter of conjecture, but personally, I'd be curious to see how the FBI's cell phone tracking technology would fare up against Black Rock City's notoriously bad cellular reception.
Second item of interest is this paragraph, which could potentially imply that some burners were actually undercover police – sparking the debate over whether the term "plainclothes" applies in this situation.

In addition to the FBI files, requests were made for arrest reports and fines. Either surprisingly or unsurprisingly, there's not a lot in them – but if you were wondering just what it is you'd have to do to get arrested at Burning Man, the answer is physically assaulting a police officer.

 The lucky agents even get paid overtime for attending Burning Man. I'm guessing they're not waiting in the STEP or
Will Crawl
lines for tickets, either…
Read the full file on
the request page
, or embedded.
Related Requests
3 files
Inkoo Kang sent this request to the Federal Bureau of Investigation on August 27, 2012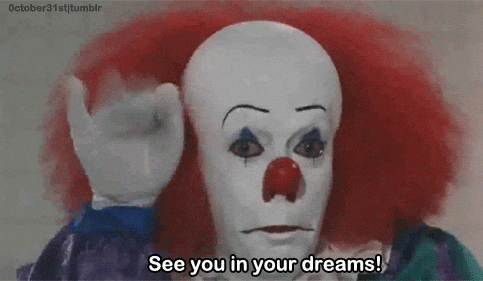 Connect Online
The Voices of  Burning Man
The Voices of Burning Man features articles and discussion about Burning Man and Burning Man culture in the world. We maintain an open comment policy there, allowing for a spirited dialog amongst readers around the thoughts, commentary and issues brought up in the blog posts.
ePlaya
– The Man dominates the Playa
If you enjoy connecting with folks through online bulletin board systems, check out the Burning Man ePlaya. The ePlaya community is a group of dedicated Burners who've been communicating in that space for years now, so it's a good idea to poke around and get the lay of the land before jumping in.
BURN2
If virtual worlds are your thing, there's a bustling and vibrant Burner community that emerged from the virtual world of Second Life, including an annual BURN2 event and even a "Decompression."
Flickr
Search for Burning Man on Flickr, and you're sure to find not only a ton of great photographs, but the photographers behind them.
Tribe
The most robust tribes on the Tribe.net social networking service are those relating to Burning Man and Burning Man culture. As with the ePlaya, it's good to get the lay of the land before venturing into the fray.
Facebook
The Burning Man Facebook Page is a great place for Burners to connect with each other and share their thoughts, ideas, photos, videos, local events, and more.
Twitter
Burning Man maintains a Twitter Account @burningman that feeds out information about Burning Man and our culture throughout the year. It's pretty low-traffic, so don't worry, it won't blow out your Twitter feed. We also maintain @blackrockcity, which focuses on activities and announcements concerning the Burning Man event itself. It stays pretty quiet over the course of the year, and picks up prior to, during, and after the event.
Resources: