Tags
Battlefield Management System (BMS), Communication, Defense industry, Department of Defense (DoD), Impacts of ICT on Defense Industry, Information and Communications Technology (ICT), Information and Communications Technology Industry, Military Systems Consultancy Services (SCS), Military–industrial complex, Network-Centric Warfare, The Invention of the Internet
Defense industry is one of the vital economic units in most nations. It produces weapons and special equipment of war.  Some nations have developed their defense industry to the extend of  exporting the equipment to others. In general, defense industry's outputs can be categorized into two – hardware and software, just like the Information and Communications Technology (ICT) industry's.
Examples of hardware output from defense industry are:
Ships such as patrol craft, corvette, frigate, destroyer, multi-purposes support ship, and air craft carrier.
Aircraft such as utility and attack helicopter, fighter, interceptor, bomber.
Land-based weapon platforms such as heavy battle tank (MBT), infantry fighting vehicle (IFV), tactical vehicle, and etc.
Logistic equipment in term of all-terrain vehicle (ATV), lorry, four-wheel drive (4WD) and etc.
Arms – small and big caliber guns such as assault rifle, artillery pieces, bombs, and missiles.
Examples of software output from defense industry are:
Various types of radar for land, sea, and air usage.
Optronic (optical electronics) system.
Telecommunication system for all levels (Sections, Platoons, Companies, Regiments, Brigades, Divisions, as well as Corps)
Electronic countermeasures equipment.
Battlefield Management System (BMS)
Defense industry is one of the many industries which are strongly impacted by Information and Communication Technology. ICT and defense industry have strong correlation. Both have a direct or positive relationship to one another – advancement in ICT brings benefits to the development in defense industry and vice versa.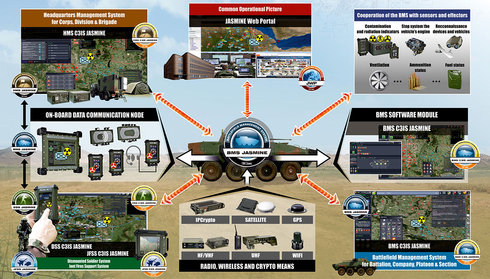 For example, the Internet – one of the cores of ICT era, was first invented in the late 1950s to be used in defensive manner upon the former Soviet Union aggression. It was built with the objective of providing the North Atlantic Treaty Organization (NATO) and United States of America (USA)'s armed forces generals with unbreakable and hard-to-decipher communication tool in case of a nuclear war broke out.
ICT had transformed the industry from producing dumb bombs to smart weapons, from people-centric to network-centric battlefields management, from aftermath combat review to real-time combat surveillance, from land and sea to air and outer space superiority, and from hardware-based to software-based force multipliers.
SCENARIOS BEFORE ICT ERA
In the old ways (before ICT being widely used), the defence industry was synonym with dumb bombs, people-centric battlefields management, aftermath combat review, land and sea superiority, and hardware-based force multipliers.
DUMB BOMBS. Before the ICT being widely use in weapon production, defence industry produced conventional bombs or famously known as dumb bombs. The bombs were used to destroy important targets such as hydro-electric dams, explosive bunkers, bridges, airport runways, and important facilities like government administrative buildings, and vital industrial complexes. Some were even used on military personnel to create fear and demoralize the opponents.
The bombs are called "dumb" because of their inabilities to choose or select proper targets and to act and react by its own timing. The bombs were unable to differentiate between high-value targets from unimportant ones.
Missing the target was frequently happened and  wrongly destroying unnecessary targets was even more common. Lots of collateral damages occurred when the bombs were used in major conflicts such as World War I and II.
PEOPLE-CENTRIC BATTLEFIELDS MANAGEMENT. Before ICT being widely used in defense industry, equipment and weapons were produced simply to meet the individual personnel requirement in armed forces. To create destructive effects against the enemy, those equipment and weapons were used collectively and concurrently in battlefields. This dependency on huge number of personnel and large number of military equipment and weapons is known as people-centric battlefield management system.
The supply of people who were ready to joint military services was high. In fact, the strength of armed forces was measured based on the number of military personnel that it has. The bigger the number the better chances to win any conflict because the tactics used required large number of peoples.
To manage a battlefield efficiently and create winning situation, the generals required large number of people, weapons, and equipment to control the front-line and cover their left and right flanks. The generals also required huge number of peoples and equipment to assist their logistic supply lines and clerical tasks in the armed forces' headquarter as other camps.
AFTERMATH COMBAT REVIEW. Before ICT was introduced in defence industry, there was no dedicated devices being invented to assist the military personnel review their actions in combat. In term of post-mortem or aftermath combat review, everybody depended on their own accounts and memories. It was done by using maps, models of the combat areas, and direct investigation by higher rank officers.
The probability of acquiring 100% reliable information from the aftermath combat review was questionable. This was due to several factors such as the post-combat trauma experienced by injured troopers, the tendency of personnel involved in combat zone giving different accounts by inflating the amount of their contribution (to win gallantry awards), and etc.
LAND AND SEA SUPERIORITY. Before ICT was introduced in defence industry, the focus of military activities was towards land and sea superiority. Thus, the industry produced lots of equipment and devices to support the focus. Among the hardware being produced by the industry was main battle tanks, armoured fighting vehicles, and ships (frigates as well as destroyer).
One Malaysian army general had mentioned that the decisive battle of any conflict will be on land. And, the best way to block enemy attack is to check them at sea before they reach our soil. However, this situation had totally change with the introduction of ICT in defence industry.
HARDWARE-BASED FORCE MULTIPLIERS. Force multipliers refer to military inputs that could enhance particular armed forces readiness to face any possible conflict and response in significant ways to win a war.  The defence industry, before ICT era, promoted military hardware such as big caliber artillery pieces (mostly 155mm and above, dubbed as the queen of battlefield), main battle tanks ( with 120 or 125mm canon, dubbed as the king of battlefield), as well as heavy "dumb" bomb that could destruct large areas as the force multipliers.
Most countries in the world equipped their armed forces with such force multipliers by spending lots of cash to pay for the hardware. One interesting fact to note is that the countries never realized that if they spend the same amount of money to develop human capital and ICT expertise, they could produced better system in the future.
SCENARIOS IN ICT  ERA
ICT has brought wide ranging changes in the industry in terms of smart weapons, network-centric battlefield management, real-time combat surveillance, air and outer space superiority, and software-based force multipliers.
SMART WEAPONS. ICT had transformed defence industry in a grand way. If the industry produced "dumb" bomb previously, now with the helps from ICT, it could produce "smart" weapons. Smart weapons are highly efficient and sharply accurate.  Military personnel could "talk" or communicate with weapons under their command. They can ask the weapon to seek and destroy very specific targets without destructing the surrounding area.
For example, the defense industry of European countries and United States of America have developed and produces air-to-air missiles that could adjust its trajectory while speeding to destroy enemy's aircraft at a very high speed. Another smart weapon in term of deep sea mine could identify which ship to destroy by analyzing current vibration created by the ship's hull. Meaning that the mine could identify whether the target is military ship or civilian ship.
Currently, killer robots are being produced to replace human in battlefield. All these are possible due to ICT and advancement in artificial intelligence system develop by defence industry.
NETWORK-CENTRIC BATTLEFIELDS MANAGEMENT. Network-centric Battlefields Management is a new approach of managing battlefield by utilizing ICT advantages. A military commander could monitor his troops advancement to enemy's line, their position in the battlefield, the number of casualties, as well as the level of ammunition supply (when to replenish them).
The intra-troops communication is also improved with network-centric devices. A squad leader could identify between friendly troops or hostile enemy troops, the position of his troop's support elements, and the positions of other combat elements scattered in the battlefield. This ability enable the squad leader to decide correctly at the right time and place during challenging situation – such as to move into enemy garrison or parameters.
All these advantages are possible due to advance electronic devices plus wireless networking facilities between the military personnel in the battlefield are connected to the command center.
REAL-TIME COMBAT SURVEILLANCE. Real-time Combat Surveillance is an extension of the network-centric battlefield management explained above. The details of combat events are fed at real-time from the battlefield to the command center. This is possible because army personnel are equipped not only with assault rifles and armored vest.
They are equipped with advance electronic devices that help them to decide which terrain to follow, enable them to calculate precisely the range between enemy target and their position, measure the time it will take to travel from one point to another accurately, as well as the destruction force required to completely destroyed decided target.
While doing the dangerous mission, the army personnel are able to received immediate instruction from their commander as well. Satellite communication devices help both sides to maintain communication in real-time and increase the chances to win the conflict.
AIR AND OUTER Space Superiority. The ICT has enabled defence industry to produce high-end military equipment to be used by the air forces around the globe. Lots of electronics devices with advance ICT components are offered in the market such as advance stealth devices to be incorporated into long range interceptor jets, unmanned-aerial-vehicle (UAV) that can fly independently to remote areas hundreds kilometers from its launch-base, military satellites that could monitor multiple targets round the clock (24 hours/ 7 days non-stop) and etc. All these new invention help many countries to achieve air and outer space superiority.
For example, satellite technology is vital in defence industry. Most developed countries have located hundreds of these important electronic device in the orbit for many purposes. One of them is for military intelligence. The defence industry uses high-end ICT inputs to create powerful satellite that can be used to survey the land, ocean, and atmosphere, as well as to monitor any significant military installations of rival countries, letting the concerned-parties such as governments to see the realities of the world we previously could only imagine and provide answers on national security.
SOFTWARE-BASED FORCE MULTIPLIERS. Most defence equipment discussed above are nothing if the "brains" that control them and enable them to "think" and "decide" are not exist. The brains are actually the software implanted inside the equipment. Due to these software, armed forces reached its optimum capability. In other word, in ICT era, the focus shifted from hardware-based force multipliers to software-based force multipliers.
Most companies in defence industry have a dedicated department that specialized in military software development. The software are used in many hardware such as long range radar, battlefield management system, global positioning system (GPS), missiles active guide system, and etc.
In fact, if Malaysia wants to enter into global defense industry and sell its products to foreign countries, military software development is the best option. This is because the country has excellent human capitals that specialized in ICT. Their contributions are vital in order to develop military software. Currently, System Consultancy Services Sdn Bhd (SCS) is one of the best company in military software development in Malaysia.
CONCLUSION
ICT has totally changed the ways defense industry operates and produces military equipment. Instead of focusing on the hardware, the industry has shifted to network-centric warfare and produces advance ICT-based output, which in turn contributed significantly to the development of potent modern military forces around the world.
Resources/Related:
Information and Communications Technology (ICT)
Institute for Creative Technologies
The Soviet Union and the United States – Revelations from the …
The Invention of the Internet – Inventions – HISTORY
Tactical Generals: Leaders, Technology, and the Perils
Network Centric Operations – Federation of American Scientists
Paradigm shifts in modern ICT era and future trends – IEEE Xplore
Scholarly articles for network-centric warfare
Network Centric Warfare – Command and Control Research Portal
Look Closely At Network-Centric Warfare
Warfighting Advantage | SIGNAL …
Modern Militaries and a Network Centric Warfare Approach
Significant scenarios introduced in ICT era for defence industry
The New Battlefield: Network-Centric Warfare | Israel Defense
Creating the Future: Tomorrow's Worl
Significant scenarios introduced in ICT era for defence industry
Russia Eyes Space Superiority Through Satellite Grouping – iHLS
1 IMPACT OF INFORMATION TECHNOLOGY ON FUTURE NAVAL …
Preventing Future Conflicts in Outer Space « CSS Blog Network
USAF Must Think About Space Superiority Like It … – Air Force Magazine
Significant scenarios introduced in ICT era for defence industry
Asian Defence Journal – SHP Media
Military Space News, Nuclear Weapons, Missile Defense
Syed Hussain Publications – SHP Media
Defense Services | Pacific Aerospace
System Consultancy Services Sdn Bhd
Military Systems-of-Systems Consultancy Services – SyntheSys Defence
Systematic – software and systems provider – CMMI5 certified
Military Device Development Company | Military Software Testing
Real-Time and Embedded Softwate Development
Ethics – What is 5G and the IoT?
American Foreign Policy Council – Publications » Articles » Beyond